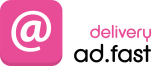 About Qmuli Adfast
The easiest and most cost effective way to deliver press and digital ads to 1000's of National, Regional and Global Magazine titles.
Adfast displays sizes and specs for 1000s of publisher titles in its brand new free-to-search database. Find detailed press, tablet, mobile and web banner specs for publishers via the search bar at the top of the home page.
You can deliver digital ads as well as press ads using the ad.fast site. Banners, tablet, and mobile ads can now be sent and tracked securely direct to publishers.
If time is critical for delivery or you need help preparing your Ad, Qmuli's in-house production team will help create, process and deliver your press or digital Ads.

Contact the Qmuli technical support team:

Email: support@qmuli.com

Phone: +44 (0)20 7278 4009